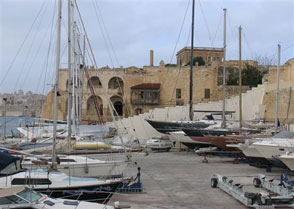 Clients arriving at Kalkara Boatyard will find all the amenities that they might require.
The yard offers boats' haulage of up to 40 tons and can cater for works consisting of Alterations, Osmosis treatment and Protection, Joinery, re-furbishing of Ship Sides, new planking to ship sides, installation of Teak Decks, Engine servicing, Engine installation, Stainless Steel works, Electrical works, Instrument installations and winter storage. Free moorings are available for those boats waiting to be hauled out for works or storage at the yard. Kalkara Boatyard also specializes in Classic Boat restoration works.
Clients making use of the yard facilities can avail themselves of pay-by- use services of water and electricity, at single or three-phase, which they can connect to the available points from access control equipment installed at various locations in the yard. Clients leaving their boats for storage and/or works required at Kalkara Boatyard can rest assured that their boats are more than safe. Boats are put on holistic steel cradles even when being transported to their allocated area within the yard using the boatyard's state of the art hydraulic transporter. Security at Kalkara boatyard boasts of a CCTV 24hr recorded surveillance system augmented by the presence of a night guard. The yard, also, has an automated fire prevention/fighting system.
The Delceppo Directors and their employees assure their prospective clients a very high level professional environment be it customer care, the Yard, the works required and any other requisite clients would need.